Every day, an estimated 774 people in the U.S. have a near-death experience, or NDE, according to a recent study. An event illuminating this experience was hosted by the Alumni Association in the CT State Manchester Damato Library Fireside Commons on Halloween.
Speakers discussed the psychological and spiritual experiences people describe after a brush with death and the afterlife. These experiences are similar to those experienced by a young boy and his family in the 2014 film "Heaven is for Real" or the 2017 movie "Flatliners," where five medical school students take turns stopping their hearts for short periods to get a glimpse of the afterlife.
The Manchester event was a tamer, but no less interesting, session. Dozens of skeptics and believers alike filled the room, all fascinated to learn about this often-misunderstood field of study.
Manchester Community College alum and co-facilitator of the International Association of Near-Death Studies Connecticut Chapter Bethany Silver, who holds a doctorate in psychology, gave a brief lecture about NDEs.
There is no universally accepted explanation for NDEs, Silver explained.
"Science does have a number of different explanations," she said. "We have the neurobiological, the psychological and the spiritual transcendental [theories], and it could be that when you argue just for one field you miss other perspectives and that we may need a multidisciplinary explanation of the near-death experience."
Despite the mystery that surrounds NDEs, these events are far more common than many realize. Silver said it is crucial that support is available to those who are dealing with the life-changing effects, which typically include a reduced fear of death, altered spiritual beliefs, enhanced empathy, and changed priorities. Some also report heightened sensitivity to physical, emotional, or even psychic or paranormal stimuli.
After Silver's presentation psychic medium and energy worker Tina Angeli, author of "We Are Angels: Positive Transformation Through Defining Moments," spoke about her own near-death experiences before delivering messages from the other side to attendees.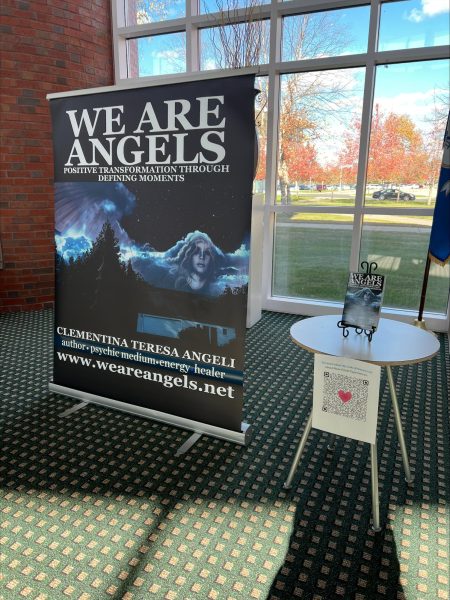 Angeli is no stranger to the supernatural side of life after an NDE. Her first transformative experience was at the age of two. She said she has had two NDEs since, and ever since she was a toddler, she claims to be able to communicate with "the other side," as she called it. She currently owns and operates S.O.U.L. Center in Granby and works alongside Silver at CT-IANDS. Angeli said she considers herself an instrument and receives messages from spirit guides and loved ones who have died. Her own experiences and gifts have inspired her to work with Silver to support and educate the NDE community.
"Near-death experiences are energies," Angeli said, "and to take the energies and put them into words in any language is very challenging … What I do now with Bethany [Silver] is a labor of love because I want everybody to know that we're not crazy. These experiences are real and it's important for people to share with each other and be supported."
During the later part of the event, Angeli delivered messages from the other side to the audience. She made her way back and forth around the room, approaching those to whom she was drawn. The messages, most of which she said were from spirit guides, offered advice and encouragement. Although they were largely up to recipients to interpret, they seemed to provide comfort and reassurance. Many found these interactions to be quite compelling.
"It's an amazing experience," said library Associate Director Paula Pini. "It validated a lot of things for me … It's exciting, you know, to hear this, and a little scary too in a way."
Some came to the event with doubts about the possibility of communication from beyond but were glad they kept an open mind.
"It was really interesting! I came in as a skeptic, so I didn't really know what to expect," Inti Scanlon, a CT State Manchester student said. "When Tina [Angeli] and I interacted, I didn't expect some of the things she was saying, but I took them, and I may have been moved by some of the words she was saying."
To learn more about NDEs visit NDECT.org.