The Greater Manchester Chamber of Commerce held its annual Appreciation Picnic for all Manchester Police, Fire, and Ambulance workers Sept. 15 and students from ICE Radio at MCC, CT State Manchester's award-winning campus radio station, were invited to deejay the special event.
It was the second year in a row that ICE Radio provided music and sound services for an important annual event that brings the greater Manchester community together.
"After doing such a great job last year, ICE Radio at MCC was our first choice to deejay our picnic this year. Once again, they did a terrific job," said Millie Texidor, President of the Greater Manchester Chamber of Commerce.
More than a dozen Chamber of Commerce members – both large corporations and small businesses – helped to sponsor the event. The afternoon included a catered lunch from Manchester Area Conference of Churches (www.macc-ct.org) and a pie-eating contest, including CT State Manchester's Campus Associate Dean of Student Development T.J. Barber.
"I proudly represented MCC, even though I didn't win," he said. "The apple pie was good, but I typically don't eat that much in one sitting, and prefer to use a fork!"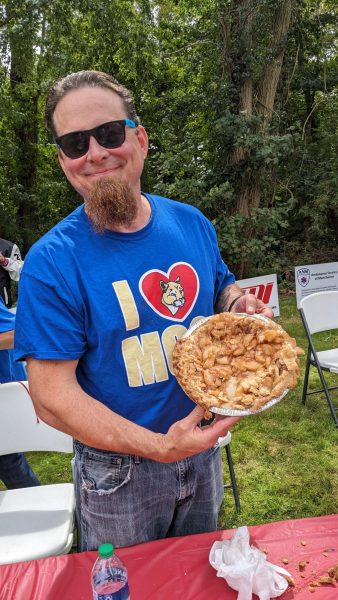 Dignitaries in attendance included U.S. Sen. Richard Blumenthal; State Sen. MD Rahman, State Rep. Jason Doucette and Liza Lee Ginoni-Gambino, Mrs. Connecticut 2023, who all expressed words of appreciation to all first responders present.  Manchester Mayor Jay Moran, also braved some chilly water in a dunk tank.  Singer Michelle Brooks-Thompson of Springfield, Mass., a finalist for The Voice (Season 3) on NBC, also sang soul-stirring renditions of "The Star-Spangled Banner" to kick off the festivities, plus an original song of hope entitled, "Never Give Up."
For the student deejays the event was a chance to build their skills while supporting the community.
"This was so much fun to deejay and be a part of! I hope we can get more involved in the community," said ICE Radio student member, SylviaAnn Ulett of South Windsor.
To learn more about the Greater Manchester Chamber of Commerce go to:  www.manchesterchamber.com