A bit of Broadway came to Manchester Community College on April 12 when singer, actor, and dancer Zurin Villanueva conducted a masterclass on performance.
Currently starring as legendary recording artist Tina Turner in the traveling company of Tina: The Tina Turner Musical, Villanueva arrived on campus with vibrant energy and insight to offer on her craft and experience in show business. Villanueva was joined by dancer and cast member Aaliyah Caldwell. Both are touring nationally with the Broadway production of Tina, which spent a week at the Bushnell Performing Arts Center in Hartford.
More than 100 members of the MCC community attended the SMB Charitable Foundation Auditorium for this special event, in which Villanueva provided vocal and audition coaching to students and she and Caldwell offered a thoughtful Q&A discussion and led the group in a lively dance instruction.
As the masterclass began, two MCC music students, Emmy Alquist and Lillian LaCaprucia, took to the stage to perform. Both sang audition pieces from other Broadway musicals.
Villanueva listened intently and gave feedback to help the aspiring vocalists hone their skills.
"Singing is mental," she advised, "Get out of your way and it'll be great!"
Alquist said she appreciated the advice.
"It helped me be more confident," she said.
LaCaprucia reflected, "I'm just really excited to apply what she taught me to real life auditions."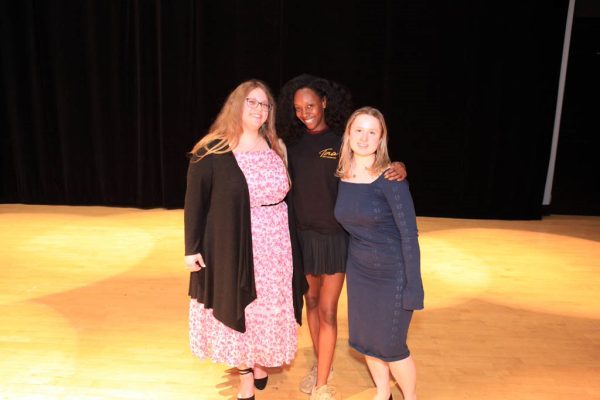 Next, everyone was invited to join Villanueva and Caldwell on stage to learn an energetic dance number set to Tina Turner's iconic "Proud Mary." The duo had everyone on their feet and moving, and it was quite a workout. The instruction started slowly but gradually built in speed. By the time they added the music, spirits and heart rates were up and the crowd exploded in laughter and applause.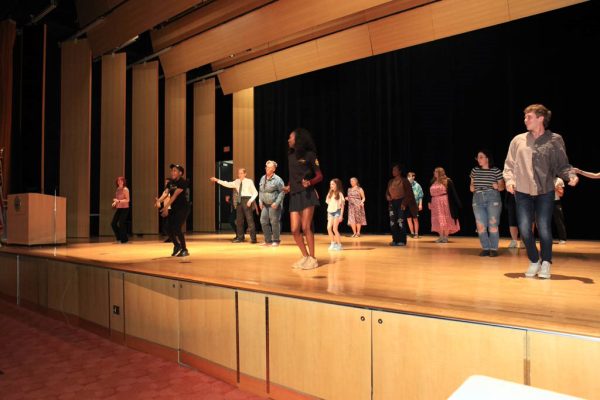 "It was amazing!, said student Yeliannie Luna. "I didn't want to go up at first, but after I got up the courage and my friends told me to go on, I definitely enjoyed it. It was great to be taught by a Broadway professional dancer. I loved it."
Villanueva then treated the audience to a song, performing "A Fool in Love" from Tina before she and Caldwell took questions from the audience. Both reflected on how their college experiences helped prepare them for the lives of performing and touring that they live today.
"I always use history class because depending on what script you have it will make you recall that," said Villanueva, who graduated from Howard University, a historically black college in Washington, D.C. "I loved my poetry class. That definitely comes up in terms of structure, like the structure of a song… That helps me hear rhythm differently."
"In undergrad, I actually minored in business administration just as a backup plan," said Caldwell, who attended Towson University in Maryland. "It's a long-term goal, but I do want to own my own dance studio one day. Goals are definitely helpful to have!"
Villanueva was also asked how and when she embraced her own greatness. After a thoughtful pause she laughed and responded, "Last week?… I was very much taught to be humble… And so, when I started doing this, I wanted to give my whole self and stand up tall and also be a person and be grounded as well."
"And my voice teacher told me, 'You have to give yourself permission to be great.'" She reflected, "It's been a long journey for me, and I've had milestones on the journey… I think doing Tina has been one of those milestones."