Four contemporary artists have brought their perspectives to the idea of change in the exhibit "Shifting Patterns" now showing in the Hans Weiss Newspace Gallery on the first floor of the SBM Charitable Foundation Building at CT State Community College Manchester.
The female artists represented their renditions of the theme of taking old patterns, ideas and concepts and bringing them into the modern realm through careful nuanced techniques across several mediums, including ceramics, photography and collage with found objects. The exhibit opened Sept. 21 and will close on Nov. 15.
On a recent visit the first piece I looked at was "Crumbs under my Pillow" by Elizabeth Alexander. This piece undoubtedly captures the eye of whomever is walking by the exhibit. The size of this piece encompasses the back half of the gallery stretching from wall to wall. At first glance, I could feel a story of femininity being told throughout the length of the sculpture. As I took a step closer to the art, I could see the intense detail in every square inch of its floral patterns and the intentional color of each fragment, bringing a very intimate feel of American life to the viewer.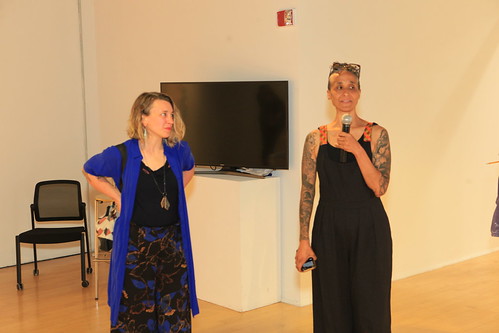 In her piece "In Forgetting is so Long," Daisy Patton uses old photographs of her family members that she feels have been forgotten in time and revives them with her art. By enlarging the photographs and placing them in a window or door-like structure, these people take a step into the modern world.  I was able to feel the presence of each individual through Patton's sort of "hodge podge" technique that I felt added a lot to the personality of each subject. Lastly, by staring at one of these photographs long enough and looking into the individual's eyes, you can feel the softness of their persona and find comfort in the life experiences that they had at a different point in time.
A series of sculptures by Eliza Au, an artist who specializes in clay and digital fabrication techniques, is mesmerizing. In "the tunnel," Au combines historical Islamic patterns with those of more contemporary times. From one angle you can see the more individual dynamic patterns weaved into the separate circular structures, but as you get down and peer through the sculpture from a more direct angle, you begin to feel this sort of serenity in the mind. I find that Au's work is a manifestation of mental clarity.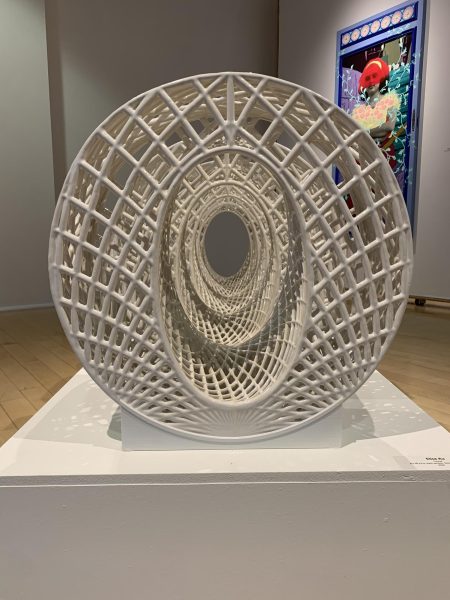 Four sculptures in the exhibit were submitted by Adero Willard, an established ceramicist. I found Willard's work to be quite enthralling in its ability to radiate this sense of raw humanity.
Her statue "BlokashGi," for example, holds no specific form but embodies this complex beauty similar to that of a human being. BlokashGi, which translates to "flesh, blood and bone," starts out as a smooth vase but, with the inclusion of a variety of objects, blooms into different colors and textures that, when combined altogether, create a sort of elegant mess. It is only when you go through each object and color at a time that you begin to see the strategic detail and importance of each material to the entirety of the sculpture.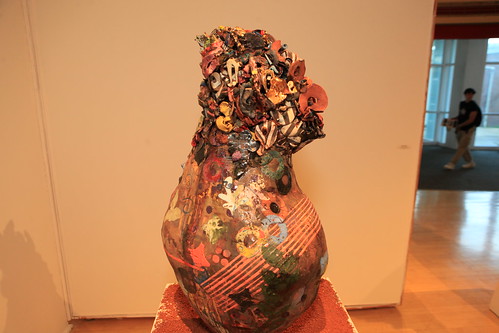 If you are looking to feel inspired or empowered on your own artistic or internal journey, I would highly recommend taking a walk down to the Hans Weiss Newspace Gallery and checking out "Shifting Patterns" exhibit. There is no limit to what we can learn about ourselves through looking at art and, even more so, what we can learn when we talk about it.
The gallery is open Monday through Thursday from 9 a.m. to 4:30 p.m. and Fridays from 9 a.m. – 3 p.m. for more information about the gallery visit https://www.manchestercc.edu/hans-weiss-newspace.