Have you ever gone to school on an empty stomach? Been at a late class wishing to grab a real bit to eat. How about looking for a new place to meet up with friends from campus? Maybe stuck on where to bring a date?  If so, you only have to look as far as the Student Services Center building for a solution to all those dilemmas because that is where the students and instructors in the Culinary Arts Department put out lunches and dinners that offer a variety of quality food in an elegant setting.
CT State Community College Manchester is a thriving program offering students hands-on-experience in all areas of menu development, food prep and waitstaff roles. The department has a renowned reputation for its hospitality and food production and to prove so, they host a series of themed lunches and dinners that bring out students and community members.
As two reporters for ICE News and fellow Manchester students, myself, Molly Coleman, and Harper Hosendove attended the New England Dinner on Oct. 25, prepared by the Advanced Food Prep class. We took note of the environment, hospitality, food and overall service.
Walking into the dining room, we were greeted with inviting music of relaxing tones, along with festive fall decorations bringing a cozy atmosphere to the dining room. We took our seats at a beautifully dressed table, pre-set with an abundance of warm bread and butter.
"I'll be honest I wasn't expecting everything to be so fancy, and it was such a great shock. When we first saw the servers they were all smiling, waiting for us, and ready, which was really nice," said Harper.
As we settled into the evening, servers came to our table to ask if we had any dietary restrictions. I am a vegetarian and before attending the dinner, I had been worried about communicating that fact since the provided menu for the evening showed the entree contained meat. But I was pleasantly surprised to find they had been prepared for this and had alternative options for every course to fit my diet that were absolutely delicious.
The first course that was served to us was soup. Harper received a traditional New England Clam Chowder, while I got a tomato soup; both came with a side of oyster crackers.
"The clam chowder was absolutely delicious," said Harper. "I'm personally not one to eat soup and enjoy it, but that soup changed my mind for the night."
As for the tomato soup, what appeared at first to be a simple soup, became an explosion of sweet, and smoky flavors once placed in my mouth. I was honestly quite taken back by the amount of flavor that was packed into each bite.
Following the first course there was a notable buzz in the air of the dining hall, with the energy of all of the guests bouncing off each other gracefully. The periods in between the courses were swift and elegant, with the waitstaff not missing a beat.
The next course was the appetizer of a Caprese salad that both Harper and I were served. We found this course to be unique and exceptional, taking the already delicious taste of a Caprese salad and adding an accent of nuts to give it a  well-rounded feeling.
For the main course, Harper was served pork chops with a side of vegetables and roasted mashed potatoes. I was given a baked sweet potato Shepherd's pie served with a perfect combination of mushrooms, carrots and peas. Both meals were beautifully presented.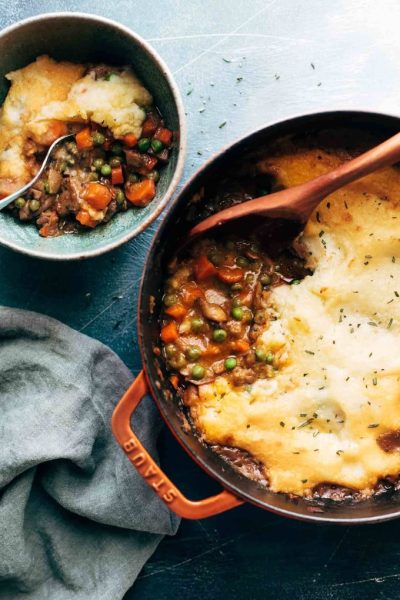 "I'm never really blown away with mashed potatoes, but these were different. The taste was so savory, while the pork chop was sweet," said Harper. They balanced each other out nicely."
I loved my pie entree, it was the epitome of a warm, fall meal.
The evening was topped off with the option of coffee or tea and a slice of a strawberry and cream infused chocolate cake to ease the sweet tooth and act as the cherry on top of a delectable experience.
Following our dinner, we were both amazed by how thorough our fine dining experience had been. We agreed that communication was a key part of what made the dinner so exceptional.
"The servers were all wonderful and were very insightful about what was in the meal," said Harper. "They maintained excellent communication and treated everyone with the same tone and feeling of a high level of respect."
With that said, there is always room for improvement. While communication was great, we noted that a physical menu on the table would have been beneficial to us and might be something to add for future events.
Overall, we felt the students in the Culinary Arts program have definitely mastered their hosting and preparation skills for these dinners. We genuinely had a great evening and were so grateful for the opportunity to have a fine dining experience at Manchester.
If this sounds like something that may interest you, you are in luck as there are four more events you can attend before the end of the semester. There will also be several events in the spring so look out for announcements on the homepage, www.manchestercc.edu.
I would especially like to draw your eye to Wednesday, Dec. 6, when the Catering Management and Advanced Food Prep classes will host a Holiday Buffet Feast at 7 p.m. that will showcase all the students have learned during the semester and feature holiday dishes from different cultures, include Bao Buns, lamb kebobs, Beef Wellington, honey Bourbon glazed ham and Mexican hot chocolate. Tickets are $35 for the feast.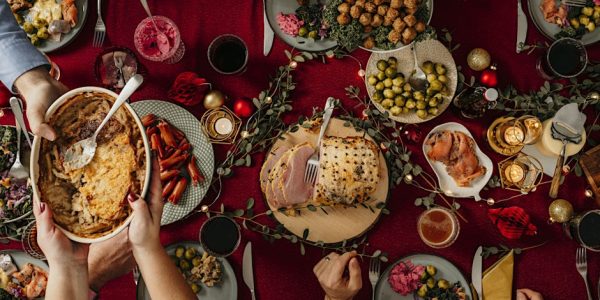 Other options include two lunches prepared by the International Foods class. One on Tuesday, Nov. 14, at noon features entrees from Moroccan cuisine and the other on Tuesday, Nov. 28, also at noon, featuring food from Spanish and Portuguese cultures. An Autumn Feast Dinner is planned for 7 p.m. on Wednesday, Nov. 29, put on by the Catering Management class.
For menus and to purchase tickets visit https://www.eventbrite.com/o/culinary-arts-hospitality-ct-state-manchester-71581264753.